PROFESSIONAL FOR SUBLIMATION

Looking for linen sublimatable is looking to advance the olden fabric with modern materials. Numerous special factors have to be considered before you can select a piece of linen that gives quality and fluent printing, whilst keeping that popular naturalness for products.
FOR FULL-PRINTING: HIGH THREAD COUNT

Most linen on market does not have that thread density to give HD image. When thread count is low, the structure is easy to get loose and leave unprinted 'vacant pixel'. SUN-FLY's linen is tightly knitted. It'll be a sure imprint experience to give perfect full-image result.
FOR HD IMAGE: HIGH YARN PLY, NO FUZZING & PILLING
Inferior linen is often of bad durability, easy to fuzz and pill. The reason for fiber pilling is that the yarns are spun with insufficient fiber strands (named 'Ply'), and turn out too thin to stand scratches. Increasing the number of yarn plies makes it stronger to resist abrasions. Ply number is surprisingly critical in sublimation, for fiber-pilling could easily haze and ruin the image. The linen we've sourced is of multi-ply yarns, giving sturdy structure to maintain the clear printing.
NO STICKING ANYMORE

It has been a universally tricky issue for linen sublimation when fabric layers tend to stick together in heat press. And that requires either an extra effort to pull them apart, or a pre-inserted separating paper. For our new linen series, we paid particular attention in researching new techs and materials that can wipe out the trouble, and finally developed a dye-sub exclusive treatment to advance the fabric. Printing process can now be free of worrisome adhesion, and alongside, we get a bonus of classy linen with great shaping and touching.
REFINED SOFTNESS TO TOUCH AND FUNCTION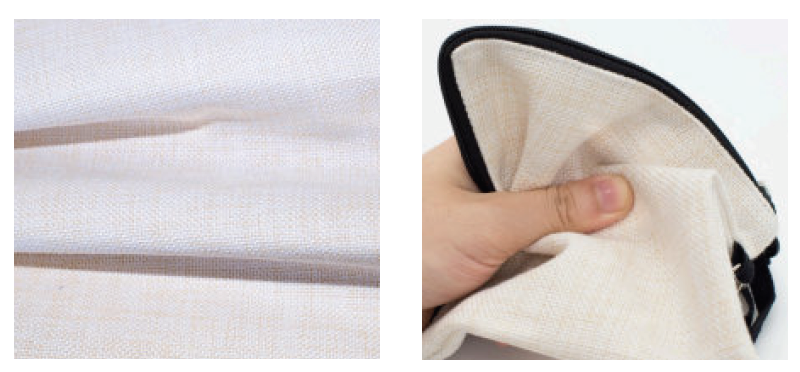 Some common myths for linen are stiffness, coarseness, or being prickly. We take special attention on the factor, and select only linen with a comfy softness. This guarantees a satisfying touch in use, especially when popular linen applications are close-hand necessities such as bags and bedding.
A BEAUTIFUL BLEND OF WHITE AND LIGHT GOLD YARNS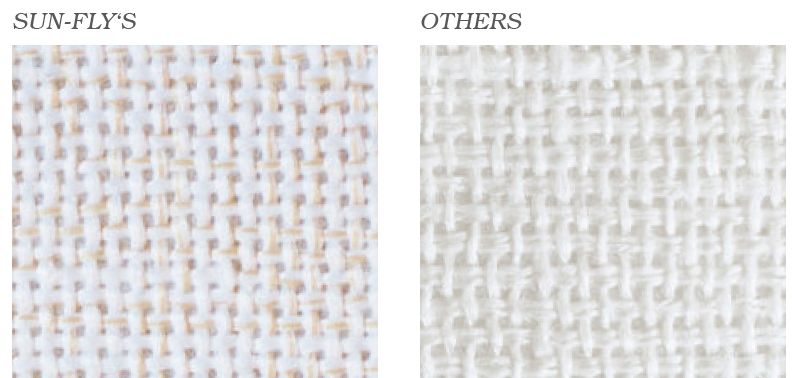 To replicate that unique naturalness of linen, we selected a source of linen that manufactures pieces by crossweaving white yarns and the light gold one together, creating lively botanic color shades. And they are careful picks from a great many other dull fabric with plain white monotoneyarn.
Please CLICK HERE to explore all linen products provided by SUN-FLY.