Think about personalizing a whole set of dinnerware, with cutleries on the family table designed in lovely series shapes, and meaningful family images, it's such a special sublimation idea that will charm many homes. With SUNPOLY™ dinning-special blanks, it's now easy to bring this unique market into sublimation. We created the series with finest polymer that produces food-grade utensils, prints quality and strong images, and builds novel yet easy-printing shapes.
The SUNPOLY™ dinnerware set is a unique range of self-developed sublimation utensils, including knife, fork, and spoon sets in different sizes and materials, and a cute complete drink & eat set especially designed for kids use.

MANUFACTURED FOR SAFE DINNING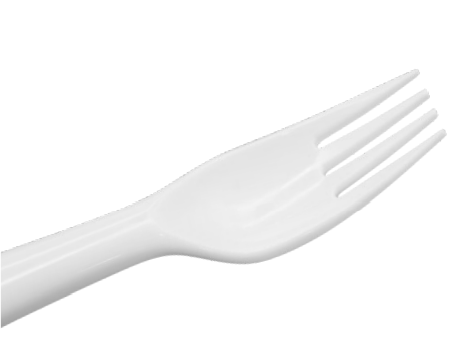 To guarantee 100% safety in use, our dinnerware is strictly controlled in design, manufacture, and material formula. Every one model in the set is produced to be extra smooth, rounded in edges and corners, and with food-grade safe polymer. All items are tested to be free of BPA and other harmful-substance release by the criterion of FDA, EU, CA65, etc, and proven to be safe in microwave or dishwasher.
HSB BLANKET IMPRINT SOLUTION
The polymer dinnerware set is also advantageous for imprint production, as you're able to use one HSB solution to cover imprint for a set despite various shapes. Simply use heat shrink bags and the oven, you can finish seamless imprint on knives, forks, spoons, bowls, and cups, without even changing tools.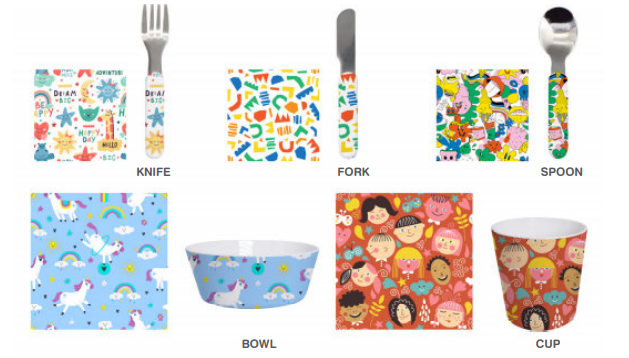 Sublimating dinnerware in a set design gives so much more creativity, decency, and attraction for kids who are always finicky to mark everything around. Makes a funny option, and easily stands out in children market. Every piece of SUNPOLY™ kid utensil is designed with special care. Produced with food-grade materials, shaped stocky and cute, edges and corners smoothly rounded, even points of the forks are well blunted – they are super adorable and safe to use.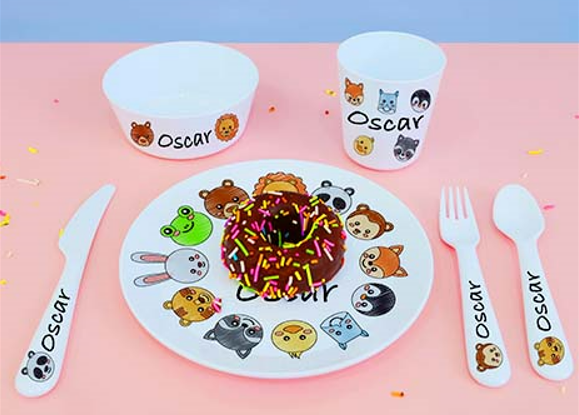 Please click HERE to explore the full product range of our sublimation dinnerware.