PolyWrap® is a special metal-crossover mug serious developed within the branches of SUNPOLYTM dye-sub polymer. A PolyWrap® mug is composed of two layers of material, one on the inside is the metal tank, one on the outside is a tightly molded layer of polymer which can be directly sublimated without coating. It's a beautiful structure innovation that breeds a new mug type which encompasses the edges of both metal and polymer. It has the SUNPOLYTM formulated polymer to deliver brilliant color and image performance, as well as a coating-free durability. And the inner stain less steel just provides a more pleasant drinking experience.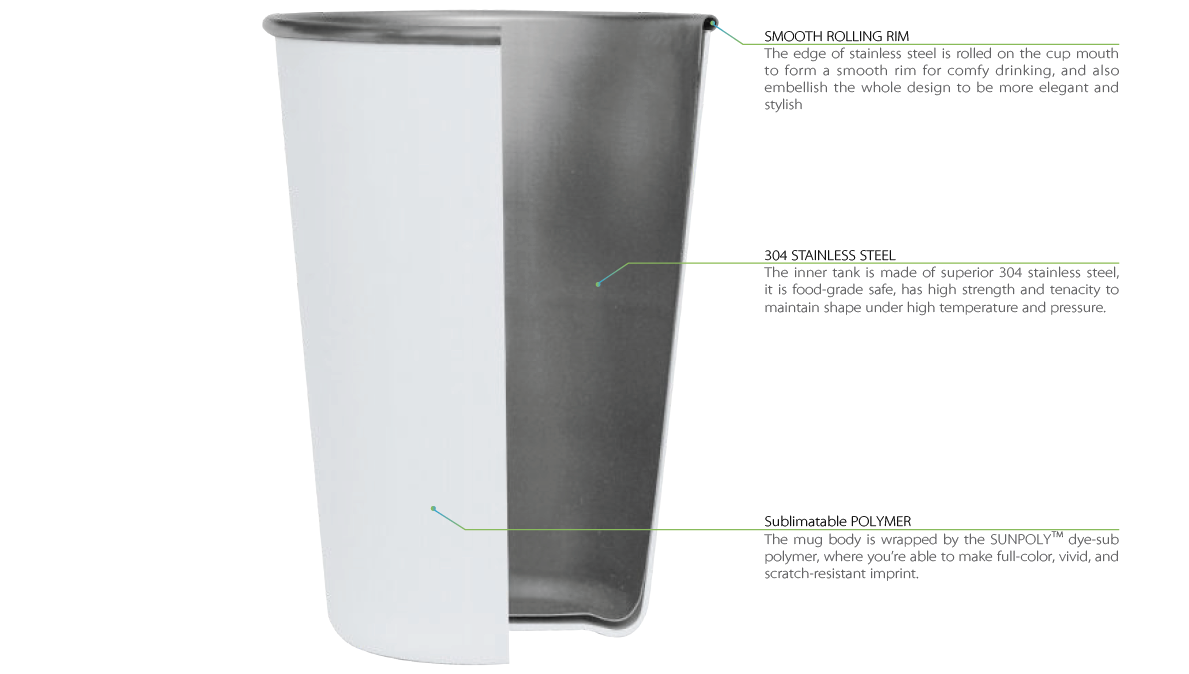 STIMULATE NEW MUG SALES
A STRIKING NEW STYLE: The join of metal texture has created a unique new style for polymer drinkware, which is natural, pleasing, and looks strikingly refreshing with personalization. It's a chance to expand something new and featured, and really promising to attract different market interests.

FOR EXTRA OCCASIONS: Crossing over stainless-steel and polymer, and with a rich variety of product models from travel mugs to shot glasses, PolyWrap® is capable of covering widest applications for either home to outdoor use, pushing the market limit for your drinkware blanks.
EASY IMPRINT
Imprint for PolyWrap® mugs is the most adapting and convenient among polymer mugs, as no extra metal insert tool is needed in printing. Simply use the standard mug press equipment to finish sublimation, or use heat shrink bag for larger area imprint.